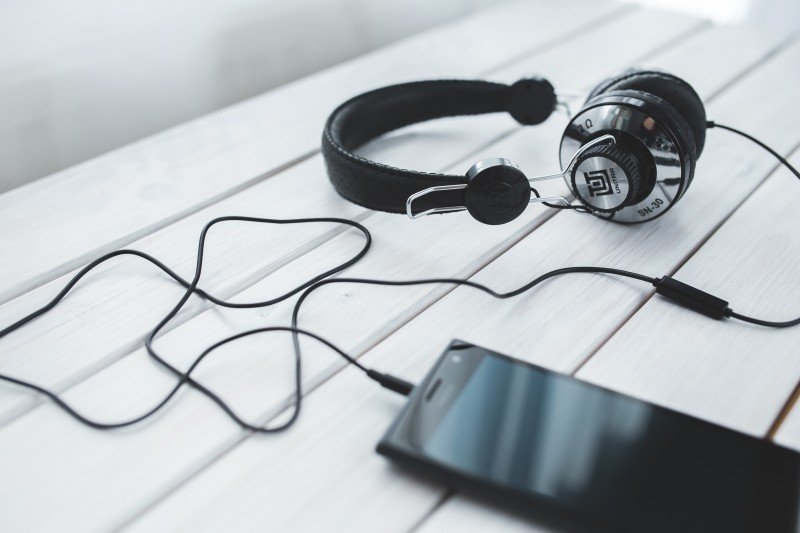 This post collects information first published inThe Hot Sheet, the essential industry newsletter for authors.Get a 30-day free trial.
---
In 2015, audiobook sales started to enjoy booming growth in the US and UK. It was the same year that novelist John Scalzinotedthat the audiobook release of his new novel with Tor outsold both the ebook and hardcover formats two to one. Indie author Joanna Penn, around the same time, noted that audiobooks represented 5 percent of her overall book sales income—on par with or better than traditional publishing.
Since then, traditional publishing has enjoyed double-digit sales growth of digital audio every year, although for authors going it alone, the results can be decidedly mixed.
How to know if the investment is right for you
Quality audiobooks require significant investment (typically thousands of dollars), and the returns may be minimal to start. Before you decide to move forward, consider the following.
Sales potential is partly driven by genre and length.Mainstream audiobook subscription services, such as Scribd and Storytel, see the most activity in mystery/crime, suspense, science fiction and fantasy, personal growth, and career and money.
Indie author Cheri Lasota, who once ran an audiobook advertising business—and characterizes audiobook listeners as avid and sometimes "ravenous" fans—says listeners are lovers of sci-fi, fantasy, romance, and horror (and, to a lesser degree, mystery and historical fiction).
Indie author Craig A. Price Jr. points to science fiction and fantasy and horror as strong categories; he says, "Why did Audible select Brian D. Anderson to be the first indie author to receive a six-figure audiobook contract? His books are good, but look at them. They're fantasy. Epic fantasy."
In other words, audiobook length is a driving factor in the current market. Audible subscribers get one credit to spend each month, and Price says they're going to pick the trilogy with 30-plus hours over the book with six—especially if there's a great narrator.
In 2018, Penn reported that the majority of her audiobook sales was for nonfiction. Of her fiction audiobook income, just over half was for box sets. She says that fiction audio buyers are price- and length-sensitive, plus an increasing number of fiction audiobooks are read by top actors or big-name narrators, so fiction listeners are more sensitive to that too. "They have a lot more choice than they did a few years ago," Penn says.
Usually your number-one criterion should be a strong existing market or sales foundation.For authors who do have that foundation, as well as the resources and ability to produce a quality audiobook, then genre and length are mostly likely to influence the sales outcome.
Quality is paramount
Price, who has listened to about two to three audiobooks per week for the last nine years, says, "A narrator really makes the book. If it sounds like the guy from the old dry-eye commercial, it makes for a rough experience."
To retain quality and continuity, author Jennifer Ashley used the same narrator across her series that began traditional and moved to indie. She pays her narrators an upfront fee (no royalty share) at a fairly high per-hour rate, a practice to which she attributes her good sales overall. Some authors recommend avoiding the royalty-share option through Audible's ACX (where you pay nothing up front to the narrator and split royalties for seven years), because quality narrators avoid such arrangements. But Price has been able to work around that by showing narrators a strong marketing plan and offering a more modest fee per finished hour in addition to the royalty split. Since Price started releasing audiobooks, they have outsold his ebooks.
Where to sell and distribute audiobooks
Audible (owned by Amazon) is the leader in digital audio sales in the US market; authors can reach the Audible market through its subsidiary,ACX.
But Audible is far from the only player in digital audio, particularly when considering international markets. Currently, there are several dozen viable players in the retail, library, and subscription space. To reach the widest market—libraries and subscription services, especially—a distributor is required. Several options are available to authors, includingListenUpandAuthor's Republic, but so far the strongest player isFindaway Voices.
Last year, Will Dages at Findaway Voices presented an ALLi conference session,How Indie Authors Can Sell More Audiobooks, that indicates Audible represents not quite half of all audiobook sales for some authors they distribute. Partly this is because Audible operates only nine localized storefronts: US, UK, Canada, France, Germany, Italy, India, Australia, and Japan. Dages says, "For all of you who think 'Audible, they've got to be 90 percent of the market,' it's just not true."
In a case study of a USA Today bestselling mystery and thriller author distributed by Findaway Voices, Audible represents just 43 percent of her overall sales. Another 12 percent are library sales, then 45 percent "other." Dages says this "other" category includes retail sales on Apple, Google, and Kobo but also streaming subscription services like Scribd and Storytel.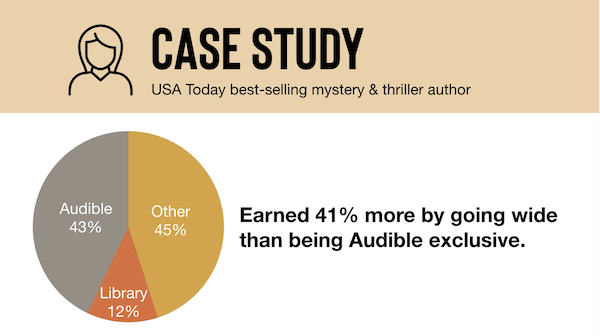 Authors who distribute wide can see significant earnings from libraries, particularly hoopla.喧闹提供数字图书、视频、音乐和more to thousands of public libraries reaching 5 million patrons. At Digital Book World last year, hoopla said it has seen huge growth in the home use of audio. In particular, hoopla says, audio in the children's space outperforms in libraries when compared to retail. (Authors using Findaway Voices can choose to have their works distributed through hoopla.)
Dages also says BookBub's Chirp, which offers daily deals on audiobooks, is growing at an "incredible" rate and motivating consumers with low price points. "They are one of the most exciting things that I think is happening in the audiobook space right now. … They're training more and more consumers that there are better places than Audible to get audiobooks." Findaway Voices is the only audiobook distributor at this time that reaches Chirp.
We asked Score Publishing CEO Bradley Metrock, who runsDigital Book World, about the most important opportunities after Audible.He says, "I would make sure to work with a distributor who can get your audiobooks onto Google and Apple, the number-two and number-three options to me as we head into a brand new decade. Apple's sales right now surpass Google's in the audiobook realm. Google, however, has recently invested significant resources into audio over the last 12 to 18 months to correspond with their tremendous investments into Google Assistant and the voice/AI realm. Add to that a rise in popularity of Google mobile devices, further eroding Apple's advantage, and I'm bullish on Google over the short-to-intermediate term for the second-best place to find audiobook sales revenue for indie authors and larger publishers alike."
How the money works
Audible/ACX pays authors a 40 percent royalty if they are exclusive to Audible; otherwise, the royalty rate is 25 percent. When distributing directly through Audible/ACX, the author has no power to determine the audiobook price, so it's hard to calculate exact earnings until the audiobook starts selling.
萨尔Findaway作者支付80%的净es, on the price the author sets and controls. Retailer cut varies but is typically between 40 and 50 percent on a standard sale. For example, authors earn a 45 percent royalty on audiobook sales through Apple and 50 percent through Nook and Google Play. Here's how the math works if an audiobook sells à la carte for $20 through various outlets:

Important caveat:Not all audiobook sales happen à la carte. Subscription services like Audible have a credit system, so payouts vary and can be determined after the fact—and payments are always lower through subscription services than through à la carte sales. Also, much of Findaway's power lies in reaching subscription and library markets, which have varying payment models. You can explore those modelshere.
There are cons to going wide.Obviously, the decreased royalty rate hurts you on Audible, which is judged to be roughly 40 percent of the market; authors accustomed to 40 percent royalties will feel the pinch right away. Authors who don't go exclusive also don't get access to Audible promo codes—often used for audiobook giveaways to reviewers, fans, influencers, etc.
Parting advice
The only thing that's for sure: the audiobook retail market is still taking shape. Last year, when Pennofferedher insights into the audiobook market, she wrote, "Some authors who are exclusive [to Amazon] with ebooks are choosing to go wide with audio," citing Michael Anderle, who founded the 20BooksTo50K group, as a prime example.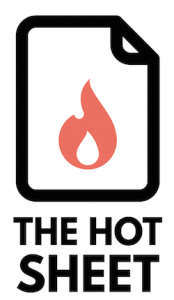 If you have signed an exclusive contract with ACX but aren't doing a royalty split deal, you can move it to a non-exclusive contract after one year. (Email ACX and request it.) If you are on a royalty split deal, you might want to consider buying out your narrator. For more thoughts on the future of audio from the indie author perspective, seeKristine Rusch's December post.
---
如果你发现这篇文章useful, you'll loveThe Hot Sheet, the essential industry newsletter for authors, published by Jane Friedman.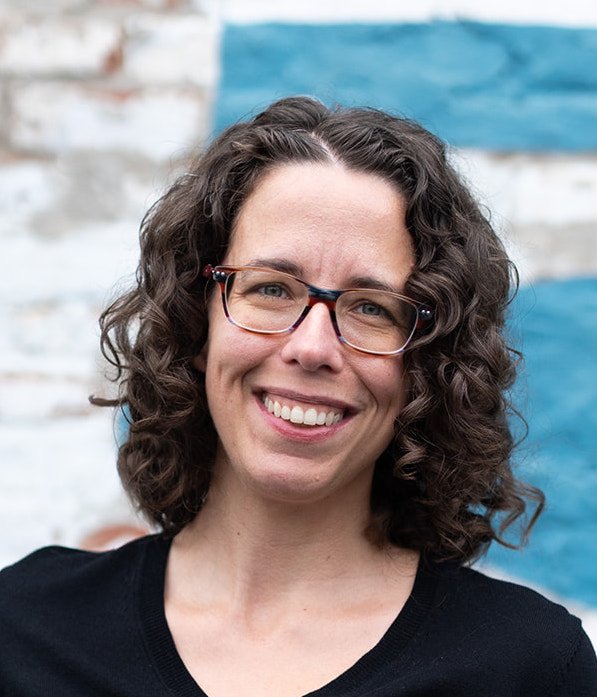 Jane Friedman (@JaneFriedman) has nearly 25 years of experience in the media & publishing industry. She is the publisher ofThe Hot Sheet, the essential newsletter on the publishing industry for authors, and was named Publishing Commentator of the Year by Digital Book World in 2019.
In addition to being a professor with The Great Courses (How to Publish Your Book), she is the author ofThe Business of Being a Writer(University of Chicago Press), which received a starred review from Library Journal.
Jane speaks regularly at conferences and industry events such as Digital Book World and Frankfurt Book Fair, and has served on panels with the National Endowment for the Arts and the Creative Work Fund.Find out more.